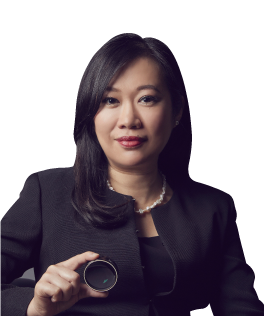 Dr Daphne Han is an eye surgeon at Royal Healthcare Specialists Centre with more than 20 years in Ophthalmology practice. Her niche is in vision correction through cataract and lens implant surgery and laser vision correction. She is sought after for microincision and laser-assisted cataract surgery with customized implants, implantable contact lens, iris implant and a wide range of laser eye surgeries like LASIK and SMILE / CLEAR.
She also manages general eye conditions in the young and old, such as myopia control and contact lens-related issues, post-LASIK eye care,
as well as glaucoma, age-related macular degeneration, retina disorders and eye trauma.
For her opinion and expertise in Ophthalmology, she is often invited to
speak, write and review articles and to educate fellow colleagues. She serves as an Ophthalmology examiner and contributes to non-profit consultancy.